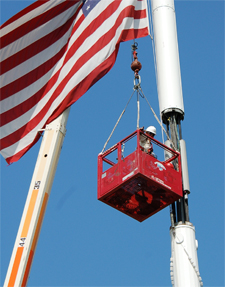 Teltronic Towers Inc. is a Maryland corporation that started in 1969. Robert Walker, President, and Jeff Tinio, Vice President together have over 50 years of combined Tower and Construction experience. Our goal is to exceed the expectations of every client by offering outstanding customer service.
Our mission is to create a customer experience that results in repeat business from each and every client. To treat our customers with a friendly attitude that exemplifies our desire and willingness to earn their respect. Day by day and job by job, nothing is to be taken for granted and every transaction is equally important.
Products and Services
Types of Towers we provide service to:
Lattice
Monopole
Guyed
Stealth
Tower erection and Maintenance:
Installation of turnkey tower sites as a general contractor
Tower Foundation Installation and Repair
Tower Lighting
Tower Painting
All aspects of antenna & Line Installations
Antenna and Coaxial line Analyzation using a true Network analyzer (Agilent HP8714ET) (see below)
Sweep Testing is a powerful tool we use to troubleshoot and pinpoint faulty communication systems. We test coax, antennas and other components in the system to make sure they meet the specifications required. The experienced technicians at Teltronic Towers headed by Vince Tinio have set a standard of excellence surpassed by none.
All management and crews have been trained by professional leaders for:
Management Trained for OSHA (Occupational Safety and Health Administration) standards.
Fall prevention and protection awareness
High angle rescue
Operator safety training standard
Universal first aid and CPR
Trained in Andrew and Commscope installation
Flash Technology – Troubleshoot lighting system, medium and high intensity lighting
Teltronic Towers is one of the founding Members of the National Association of Tower Erectors.  (NATE)
Teltronic Towers can handle the complete construction of a new raw land tower site or a co-location. We carefully coordinate the efforts of every project from start to finish.
Teltronic Towers is exploring and researching new ideas and methods every day in order to meet the growing needs of our customers. With our experienced staff and continuing training and development programs, Teltronic Towers looks forward to continue our growth.